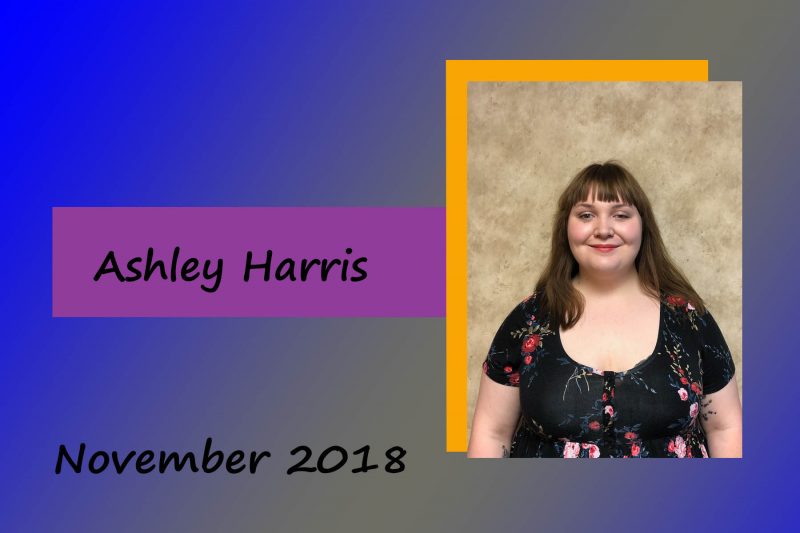 Congratulations Ashley Harris of the Comfort Inn & Suites, Jerome-ID property!  You are our November 2018 – InnTrusted Employee of the Month!
Ashley is a front desk/night auditor.
Ashley is always willing to work when we are short staffed.
She worked Night Audit 6 days a week for 4-5 months (without complaining) until we could find and train a new night auditor.
She is willing to work whatever department we need her in.
She will work whatever shift we give her including doubles or back to backs if needed, without complaining.
She has never had a guest complaint.
She does whatever is asked by management without question.
She has a "Can-Do" attitude and is always in an upbeat and positive mood.
Out of our Night Auditors, she is our top Choice Privileges enroller.
She always welcomes our guests with a smile and offers to help with luggage for the elderly or handicapped guests.
When one of our other desk agents didn't have a way to get to work due to vehicle issues, Ashley went above and beyond to get her co-worker to and from work to ensure that the desk had the coverage that was needed.
She is great at communicating when we have an opportunity to push rate due to occupancy and the feel of the evening.
She is constantly coming up with ideas to help get people in the door.
She genuinely cares about the hotel and loves being here.
Ashley is the nicest person you will ever meet. She goes above and beyond for the guests. One guest even took the time to email Rusty personally about the experience she had with Ashley. This guest also sent Ashley flowers to the hotel as a thank you for her kindness. See attached letter from a guest.
She has fully embraced the guest recovery program and takes pride in her ability to solve guest issues without having to involve a manager. This ensures that the guest's issue is solved quickly and effectively so the guest doesn't have to wait for a manager to respond!
Ashley Harris is the kindest and most pure soul I have ever met. She is honest and trustworthy beyond words. Ashley is dependable and a team player. I can call her anytime day or night if I'm in a bind and need a shift covered and she will not only show up for the shift but she is happy to help and proud to be part of our team. This does not only apply to the front desk but to breakfast as well. She has saved my butt on multiple occasions in the breakfast department when a shift needed covered.
Ashley has earned the respect of her entire team including all managers. Any task I give Ashley is completed in a timely manner and done correctly. Ashley has a very special way with the guests that she encounters. She never loses her cool and always replies to them with respect in a mellow tone. As I said in the bullet points, she has never received a bad complaint from a guest. It gives me peace of mind knowing that if Ashley is working, I know without a shadow of a doubt that the guests are being taken care of above and beyond their expectations.