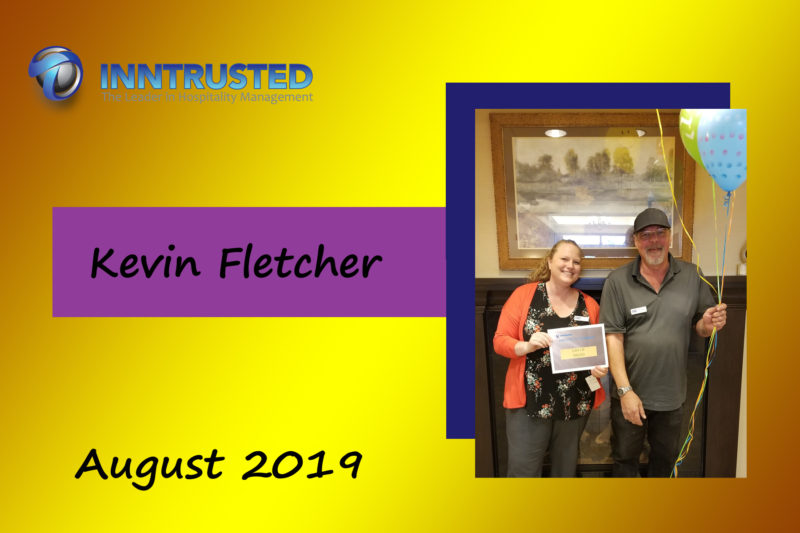 Congratulations Kevin Fletcher of the Holiday Inn Express & Suites – Missoula, MT!  You are the August 2019, InnTrusted Employee of the Month!
Holiday Inn Express & Suites in Missoula, MT would like to nominate Kevin Fletcher as InnTrusted's next Employee of the Month. We believe he is well deserving of this honor because every day he demonstrates the qualities that we at InnTrusted hold dear. We continue to be impressed and amazed by Kevin's commitment to the property and to all of our staff. Kevin writes his schedule 100% based on the needs of the hotel which means he is ALWAYS here on the weekends and busy times. He frequently does split shifts so he can do check the pool & handle immediate issues and then comes in later to recheck the pool chemicals and make any adjustments needed. Despite working long hours and/or many days in a row Kevin is always positive and pleasure to be around. Kevin has come in the middle of the night when we have had a lock issues and he has also come in at 4am so he can get a jump on Pool/Spa or major projects. Kevin is fantastic about communicating with the different department and is a true team player.
Kevin approaches all his job duties with a positive attitude and he never shy's away from the dirty, less desirable jobs. No matter if it is plugged toilets or plugged drains he never complains. He says cleaning out drains is like fishing! And he will report back that he caught a three pounder (or whatever size he thinks it is). The staff thinks it hilarious and we all get into it. How fantastic is it that he can take such a dirty job and turn it into something fun & positive for everyone! This is yet another reason Kevin is such a fantastic member of our team.
Kevin goes above and beyond in his daily work but also when needed most he always rises to the occasion. A recent example would be a few weeks ago when we had a guest check out and leave his room in a horrible state – see pictures. The guest had pulled the bathroom mirror/light off the wall, pulled the curtains down, broke drawer hinges, broke window stop, scrapped the window sill, put a hole in the wall, broke multiple light fixtures, took the headboard off the wall and rearranged/stacked all the furniture in the room. This happened during the busiest part of summer when rooms were in high demand. Kevin worked tireless on getting this room back and ready to rent. He was able to fix everything in-house which was an absolute miracle. This is a prime example of Kevin's commitment to our property and of his outstanding knowledge & skill set.
Notes from our team about Kevin:
"Kevin is a big part of our success here. Not only with his commitment to work each & every day but his positive attitude brings out the best in each and every one of his co-workers. Kevin has moved up the ranks because of his knowledge and understanding of what it means to live by the Company's Mission statement. His commitment to deliver consistent & compassionate care to the property shows the minute he drives into the parking lot and doesn't end when he sees it in his rearview window. From landscaping to the security of the hotel, Kevin has been unsung hero working in the background and taking no praise. He has truly been one of the most valuable employees at our hotel & I hope you will consider him for Inntrusted's Employee of the month." – Ryson, Manager
"It is rare to see a Maintenance man be so caring and helpful to the Front Desk staff. I've worked at other hotels and Kevin is truly the most dedicated Maintenance man I have ever worked with. Kevin is on call 24/7 if we need anything. I have called him late at night when I've had Guests upset about something and he has either walked me through what to do or has come right in to help me. It means so much to know that he our backs and will always help. Please consider Kevin as Employee of the month." – Hailey, Front Desk
Again, for all the reason's listed above please consider Kevin as Inntrusted's next Employee of the Month. It would mean so much to our entire team if Kevin received this recognition from InnTrusted. Plus, how amazing would it be that he could use the prize to go actually fishing in a lake NOT just in our hotel drains! -Kate Leonberger, General Manager – Holiday Inn Express & Suites, Missoula.