Candlewood Suites Property Description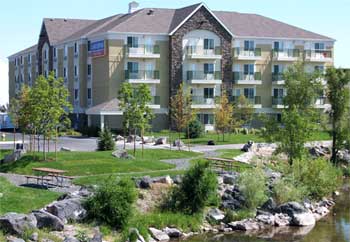 Candlewood Suites
Idaho Falls
665 Pancheri Dr
Idaho Falls, Idaho 83402
208.525.9500
Opened: 2008
Rooms: 81
Pet Friendly

Free Laundry

Full Gym Membership

Candlewood Cupboard

Walk Paths along the River

Full kitchen suites with full size refrigerators
Candlewood Suites is an award-winning, pet friendly, extended stay hotel, located across from the Snake River Landing Area. Ideally located just minutes from an array of local attractions and businesses including the Snake River Greenbelt, the Falls, and a variety of local parks that are great for exploring nature. Also close by is the Museum of Idaho, the Idaho Falls LDS Temple Visitor's Center, and the Tautphaus Park Zoo.
The hotel itself has four floors with 81 spacious suites, all of which feature full private kitchens with refrigerators, microwaves, stove tops, and dishwashers. The cupboards are fully stocked with cookware and dishes. Select suites feature riverview balconies.
The hotel also offers complimentary on-site laundry facilities and The Candlewood Cupboard, which is located in the lobby and offers a variety of food and sundry items for purchase. Weekly housekeeping services, dry cleaning, and laundry pick-up services are also available.
Many travelers stay with us on their way to Grant Teton Mountains, Mesa Falls, and Yellowstone National Park.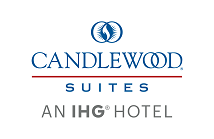 Awards
IHG Regional Summit Highest Problem Handling
IHG Regional Summit Highest OSAT
IHG Torchbearer
TripAdvisor Certificate of Excellence
Merril C. Smith Services to Veterans
Best of the Best GM, Laura Ballard
Best of the Best Maintenance, Brent Kirkham
Best of the Best Housekeeper, Janet Earnest
IHG Newcomer
IHG Priority Club Excellence
Booking.com Guest Review Award
The Idaho Falls Candlewoods Suites has won several awards for fundraising efforts for Give Kids the World and Habitat for Humanity.
Laura Ballard, General Manager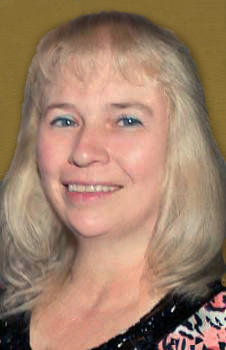 Because of her love and passion of service and hospitality, the Candlewood Suites is the perfect home for Laura. She joined the InnTrusted family in 1995 working first at the Hampton Inn in Idaho Falls as Assistant General Manager. Then in 2000 she was promoted to the General Manager. In 2008, she accepted the opportunity to manage the new Candlewood Suites. Laura was the "Best of the Best Candlewood General Manager for 2011".
She is very active in her community. An area representative for the Yellowstone Teton Territory, member of the Business Advisory Council, working with Development Workshop in Idaho Falls, a member of SHRM, Society for Human Resource Management, Idaho Falls Chamber of Commerce Member, and supports our local zoo as a Zoologocal Society Member. Laura also finds time to fundraise every year for Give Kids the World and her entire Candlewood team gets involved.
Camping, hiking, snow machining, four wheeling, reading, gardening and relaxing in the mountains are among the many things she enjoys with her family.
Laura is very proud to be a part of InnTrusted and her Candlewood Team.