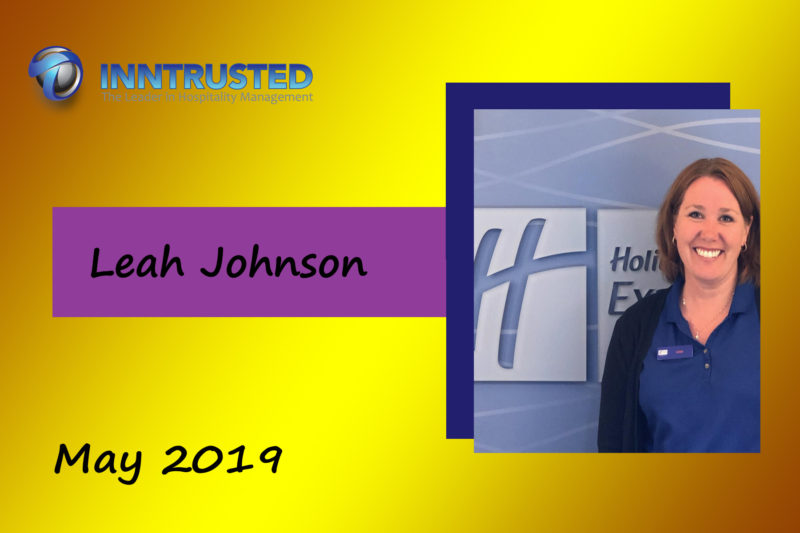 Congratulations Leah Johnson of the Holiday Inn Express & Suites – Nampa, ID!  You are the InnTrusted May 2019 Employee of the Month!
Leah is hands down the most efficient employee I have ever met. I hear guests compliment her all day on her charming personality and willingness to go above and beyond. One of her many talents is getting information from the guest as they are checking in. This may not seem like a big deal but in the past 30 days, Leah has helped line up 4 new LNR accounts. Those accounts have already signed and picked up a combined 22 room nights. Having a person at the front desk with her skills helps his hotel keep existing clients and obtain new ones.
This past week David was out for his GM conference. During this week we were sold out several nights and I had 4 corporate clients wanting rooms. She tracked the room pick-up every day and contacted my clients when a room would be available. Her hard work helped us prove to our clients that we will go above and beyond to make sure all of their needs are met and exceeded. Without amazing employees like Leah, our property would not be number 1 in Idaho for Holiday Inn Express.
The thing that impresses me the most about Leah is that she always takes time out her day to tell everyone how great of a job they are doing. I always catch her speaking with housekeeping, breakfast and maintenance; thanking them for their hard work and letting them know that she appreciates everything they do. Anyone can be nice to a guest, but when you make sure to go around and tell everyone that works with you they are important and do a good job that is something special and deserves recognition. I have worked for several hotels over my career and I have never seen such an amazing work environment before, and I know that Leah plays a major role in that.
One of the hardest jobs at the front desk is dealing with a guest that is rightfully angry about something. If there was a term to describe the way Leah handles these situations it would have to be that she is a "Guest Whisperer." I can't tell you how many times I get up to help but suddenly stop. By some sort of magic Leah now has that angry guest laughing or talking about their dog. This skill cannot be taught, and we at the Holiday Inn Express and Suites in Nampa are truly blessed to have someone like Leah on staff.