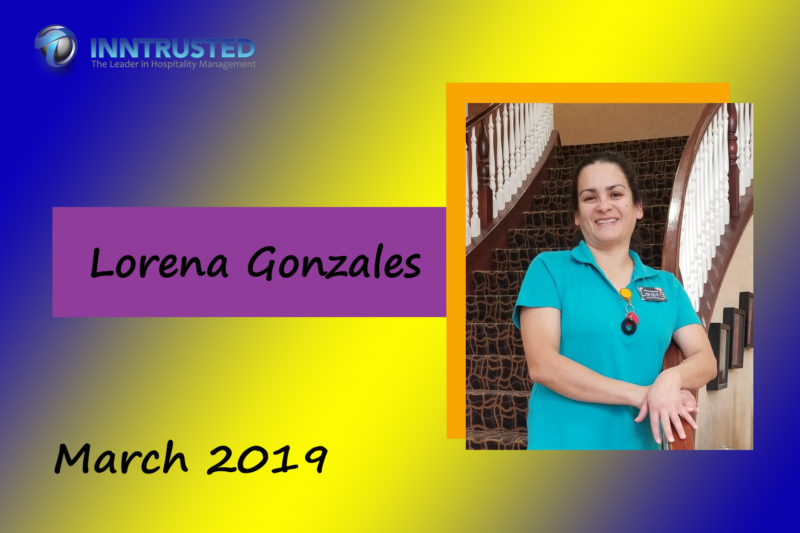 Congratulations Lorena Gonzales of the Hampton Inn & Suites – Boise/Meridian;  you are the March 2019 Employee of the Month!
Lorena has been employed with the Hampton Inn & Suites since September 9, 2009.
Lorena works in our housekeeping department and will be employed 10 years this year.
She never takes Holidays off and rarely requests time off. When she does request her time off it is in December and she has to take the time off or she will lose it.
About a year ago Lorena moved into laundry. She has immaculate rooms and is extremely quick folding linen and terry. Many housekeepers that clean rooms do not like the laundry or vice versa. Lorena does both very well and never complains what she has to do.
She always greets me with Hola Buenos Dias. She also embraces me with a big hug, which gives me a nice start to my day.
She helps her team to strip rooms and if someone needs extra help she is always there to pitch in. She is the kind of team member that will work next to you and do whatever you need to do to get the job done.
Lorena will work 7 days a week with no complaints.
She is always smiling and happy to be on the job.
Lorena is the type of person that is grateful, humble, and kind. She has a positive attitude and work ethic that we do not see much of these days.  Since I have been GM here at the Hampton Inn & Suites she has never called in sick.  You could not ask for a more dedicated person. She is a great asset to our company.
Lorena is a mother to two young beautiful children. During our Christmas parties, you can see that they are a direct reflection of her. They are so well behaved and respectful.
Although there sometimes is a language barrier I can still communicate with her and understand who she is as a person. I and am so grateful and proud of the employee that she is. Communication is vital in our operations but it is amazing when you can feel what kind of person she is.  I am lucky to have her on this team and honored to know her. She is the first person to say thank you for the wonderful Christmas Party or for the lunch when we pass inspection. She truly appreciates Inntrusted as a company and is happy to come to work each day.
She may not be recognized on guest reviews, however, she is much more than that. The housekeeping department is the backbone of our hotel, and she sets an example for us to all follow; coming to work every day with a smile on her face, works as many hours as you need her, never complains, will pitch in to help her co-workers at any given time, and very consistent.
Lorena deserves to be recognized for employee of the month with Inntrusted as she truly is what our Inntrusted Mission Statement represents. Lorena helps our hotel/company to be successful as she can be depended on and relied upon and in return, it gives back to her and her family. She is Consistent, Committed, and Compassionate in every aspect of her life.
She is an outstanding employee and deserves this special recognition!
Annie Doyea, General Manager – Hampton Inn & Suites, Meridian, ID