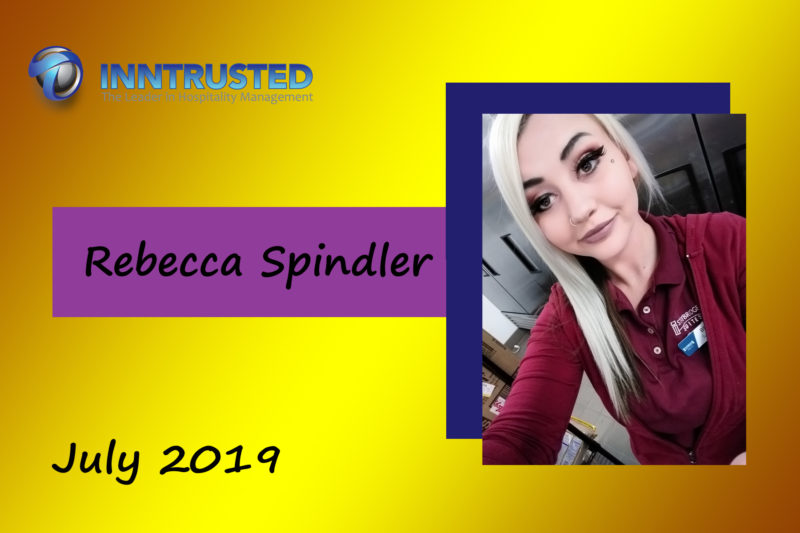 Congratulations Rebecca Spindler of the Staybridge Suites – St. George!  You are our July 2019 InnTrusted Employee of the Month!
Rebecca joined the Staybridge Suites February 1st, 2019, and we would like to personally thank her for all her hard work, dedication and effort to provide not only an amazing breakfast experience, but an overall incredible hotel stay.
Not only has she been a wonderful person to work with, her Manager, Tami, claims that "She is a real team player with a heart of gold. She always has been willing to learn and do anything when asked to and I love how excited she is every day."
We are excited to nominate Rebecca for employee of the month because we know in this industry, it takes more than one person for it to run smoothly. With spectacular staff members like Rebecca, it makes the job worthwhile and she makes it looks easy. She has stepped up multiple times to help team members, complete supply orders, and anything else it takes for breakfast and the hotel to run as smooth as possible.
Jessica, our Sales Manager, says "She always goes above and beyond and has a great attitude. The breakfast department is running very well even when the manager is not present because she treats the department as if it's her own. Her coworkers look up to her and she is a great example of a hardworking, dedicated employee delivering outstanding customer service."
I, for one, would like to state that Rebecca has always had an amazing attitude and is one of the reasons why our hotel is remarkable. We always get compliments on her and the food and beverage department as the food and customer service are stellar. I am proud to have an employee like Rebecca and thrilled that she has been chosen for Employee of the month.  -Jessie Riddle, General Manager – Staybridge Suites, St. George