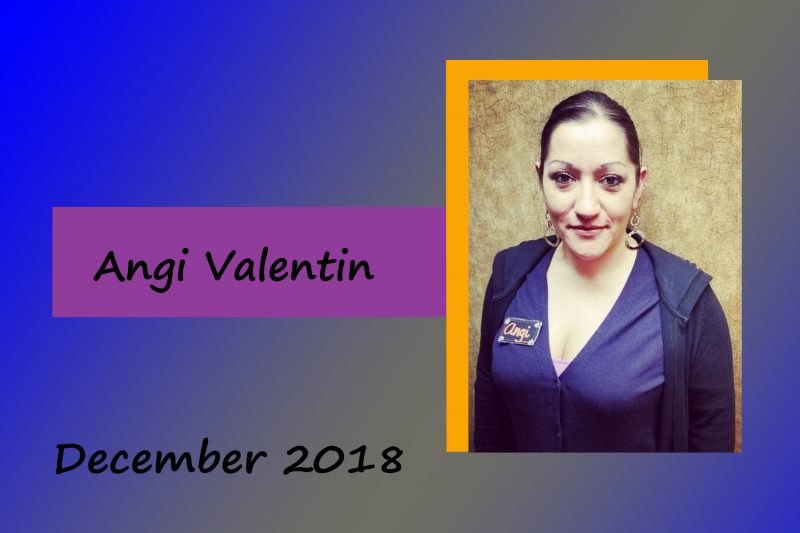 Congratulations Angi Valentin of the Hampton Inn at the Mall – Idaho Falls, ID!  You are the December 2018 – Employee of the Month and our final winner for 2018!
Angi is a rock star, I have multiple guests comment on her customer service, her bubbly personality, and her willingness to help.  One of the most noticeable qualities that Angi has that makes her stand out- is her never stop moving, always wanting to help attitude.  Angi never turns down the extra stuff!  She takes on shifts and covers for anyone and everyone, she stops in my office to ask if she can help me with anything, she is always moving, stocking, cleaning, greeting, and making those memorable moments with the guest!  Nothing is ever left undone. She runs circles in the lobby, breakfast room, and back office, tidying up, leaving helpful notes and updates for staff.
Angi makes it a point to get to know our guests – the other day I received a voicemail from a guest who had almost lost their baby in the NICU, Angi had made the connection and was aware of the daily happenings that this family was enduring. The older sister, maybe 5 years old, would recognize Angi's smiley face and would come to chat and spend time at the desk coloring and chatting with Angi; the family was forever grateful for Angi's kindness and interest in their situation. The woman called to thank her and make sure to recognize her with management, and during the voicemail broke down in tears to say how much it meant every time she walked in the front doors feeling hopeless and broken to be greeted with the compassionate face and warm hug from Angi. It brought me to tears to hear this woman choking back her tears as she explained what Angi had done for her family.
Angi has worked for the hotel for over a year, she has the nurturing personality, and wants to see everyone succeed.   Angi is willing to train new employees, help with all shifts, and her smile and genuine connections with our team are something you cannot help but notice.  She points every employee out as they walk in for their shift, saying hi, asking how they are, and if there is anything she can do to help them.
We are so very blessed and lucky to have such a wonderful teammate in Angi.  She is a sweetheart, who has made an impact on everyone she encounters. We love you Angi, thanks for being you!  – Chelsey Kennelly, General Manager  — Hampton Inn at the Mall, Idaho Falls.