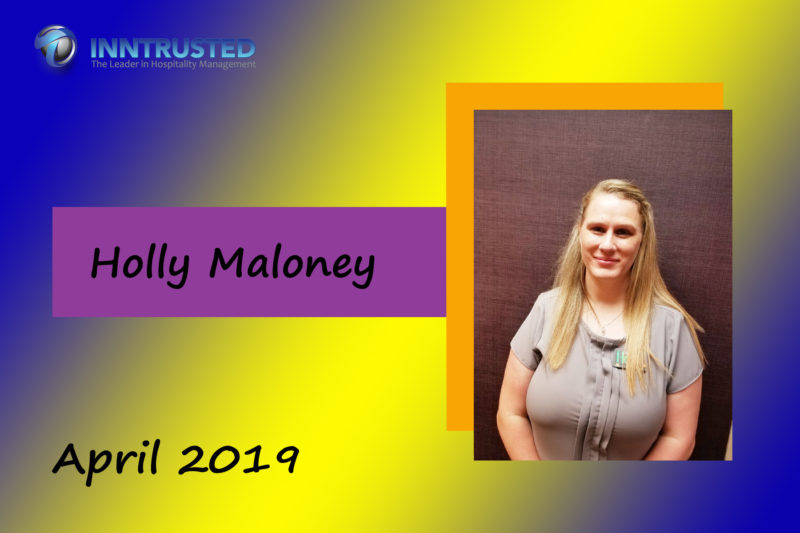 Congratulations Holly Maloney of the Hampton Inn at the Mall – Idaho Falls!  You are our April 2019 InnTrusted Employee of the Month!
Holly embodies everything Hampton. She is someone I have learned to count on, lean on, and her skills and knowledge are so helpful to the success of our hotel! Holly is the main contact for every department within the hotel! She keeps us all straight, she is the smiling, happy and cheerful person that everyone sees in the morning. She greets our staff like she greets our guests! Everyone gets acknowledged! And to me, that is one of the most memorable things that helps to jump-start someone's day!
Holly works so hard at directing and communicating with the entire hotel. She is the front desk manager too, and so she passes info, trains, and runs the monthly front desk meetings. She is our Hilton honors Champion, and honestly, she is just the Hampton Champion! We love her, and our hotel wouldn't run so smoothly if we didn't have her.
Recently Holly was promoted to help with operations 2 days a week. She helps with Accounts Receivable, Guest Reviews, Hilton Honors Reimbursements, planning and executing projects at the hotel, she participates on the weekly revenue calls, helps with group bookings, and is "in the know" about pricing, strategies, and is empowered to help make those decisions for our hotel.
Holly never backs down from a challenge, she does everything I ask of her. This hotel has encountered so many changes, updates, and is constantly changing and evolving- and her willingness to be on board and support my visions and goals has made it a complete joy to come to work today! I adore Holly, and I consider myself and my hotel very blessed to have her.   –Chelsey Kennelly, General Manager – Hampton Inn at the Mall.